Cleaning
To maintain the beauty and longevity of your rug, we provide expert cleaning in our facility for all types of hand made rugs including: wool, silks, durries, braided, flat-weave, killim, and needlepoint rugs. Pick up and delivery service is available. For best results, handmade rugs should be professionally cleaned every two to four years depending on the traffic.
Repair & Reweaving
With our experience, no repair is beyond us. We offer full professional repairs from fixing fringes, re-binding, repairing torn areas, re-dying of white knots, and reweaving missing sections or moth damaged areas. From our large selection of wool and silk, we are able to match the colors on any rug.  We can repair any part of your rug and return it to its original condition.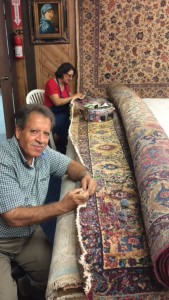 Repairing the fringe on a 100+ year old Lovers Kermit
Appraisals
With your purchase, you will receive a certificate verifying the authenticity of your oriental rug. Due to our years of experience in the Oriental rug business, we have the expertise to appraise your rug. It is important to have all your hand woven rugs appraised for insurance purposes. We also suggest keeping a photo your rug with the appraisal. During the appraisal of your rug, we take into account its country of origin, size and shape, design, knot density (knots per square inch), type and quality of the wool, weft and warp, and types of dye used. We then determine its market value based upon condition, availability, uniqueness and rarity.  The appraisal will be signed and sealed for your insurance purposes.
We can also appraise any oriental rug you already own, and provide you with a signed and sealed Certificate of Authenticity. Appraisal charges are minimal, whether performed in your home or in our store.
Padding
We provide different type of pads. Types of pads we offer are for hardwood, tile, concrete, or on top of wall to wall carpet. Using a pad will keep your rug in place, as well as provide cushion. Appropriate padding suggestions will be made when your rug is purchased. All of our pads are treated with MSM-Fresh® to inhibit growth of odor-causing bacteria, mold, or mildew, and is guaranteed to neither damage your floor nor your rug for 10 years.
Sealing & Scotch Guarding 
We provide sealing such as scotch guard for rugs. This sealing treatment allows you to wipe up most spills and stains, because it keeps the spill on the rugs surface. The best time to have this done is immediately after cleaning.
Storage & Shipping
We will be happy to prepare your rugs for shipment or a long safe storage. We also have facilities available to store your rugs during a move or otherwise, for a minimal charge.